CERAMIC SINTERED ALUMINA TUBES
AluSIK-99 ZA Type C 799 "TEH"
---
FEATURES:

High dimensional tolerance
High heat resistance
Very high wear resistance
Chemical corrosion resistance
Very good thermal conductivity
High degree of reliability and economy in service
Very high mechanical & refractory strength, very hard

Thermocouple Protection Sheath

---

DESCRIPTION:



AluSik –99 ZA are sintered alumina tubes with excellent temperature stability. They are popularly used as furnace tubes and protecting and insulating tubes for high temperature thermocouple assemblies. Because of their high purity and fine grain structure, AluSik – 99 ZA possess high wear resistance high strength, high thermal conductivity and insulating properties.

The Al2O3 content of AluSik –99 ZA is more that 99% making it perfectly suitable for use in Platinum/ Platinum Rhodium thermocouple as any presence of silicate would contaminate these thermocouples and reduce their service life.

AluSick 99 ZA tubes are available in a variety of sizes with one end closed as protection tubes or both ends open with 2-hole or 4-holes as insulating tubes.

2-hole and 4-hole insulating tubes

---

PROPERTIES:



Temperature stability up to 1800°C


AluSik – 99 ZA tubes exhibit stability at temperature as high as 1,800°C giving it advantage over metal or glass material. Application temperature also is influenced by the tube geometry, the diameter, the wall thickness and the method of installation i.e., horizontal or vertical.

High chemical resistance
AluSik – 99 ZA has excellent chemical resistivity and are corrosion resistant against most acids and alkaline. Also, the stability in neututral or reducing atmosphere is excellent.

High electrical insulation
Due to its very high electrical insulation properties, AluSik –99 ZA is ideal as thermocouple wire insulating tubes and thermocouple protection tubes even in electrically heated furnaces.

Mechanical wear resistance
Due to high mechanical wear resistance AluSik-99 ZA tubes exhibitslong term stability even when subjected to abrasive environment.

Dimensional flexibility
Various standard sizes are available from 0.5 mm through 300 mm in diameter. Tubes with non-standard sizes can be offered in accordance with customer's specifications and dimensions.
SPECIFICATIONS
QUALITY
AluSIK-99 ZA
Chem./Phys. Composition
Sintered alumina
Type according to DIN VDE 0335
C 799

Chem. Composition Al2O3

99.7 %

Structure

dense

Type of body
Impervious
Bulk density

3.8 g/cm3

Open porosity
0 %
Limit of application

1750°C

Thermal expansion

20-1000°C

8 x 10-6K-1

Thermal conductivity 20-100°C

25 W/mK

Flexural strength unglazed min.

300 N mm-2

Mean coefficient of linear expansion 30~100°C

5~7 10-6 K-1

Mean coefficient of linear expansion 30~600°C

7~8 10-6 K-1

Temp. for volume resistivity 1 MW cm (min.)

800°C

Thermal shock resistance

medium-good

Spec. electric resistance at RT

1014cm

600°C

108

Maximum production length for tubes

3000 mm
Tolerance For Protection Tubes as per DIN 43723
VDE 0335 Type
Outer - f (d1)
Inner - f(d2)

Length(L±2)

C 799

10
6

270, 375, 530, 740,1030, 1430, 2030

15
10
24
18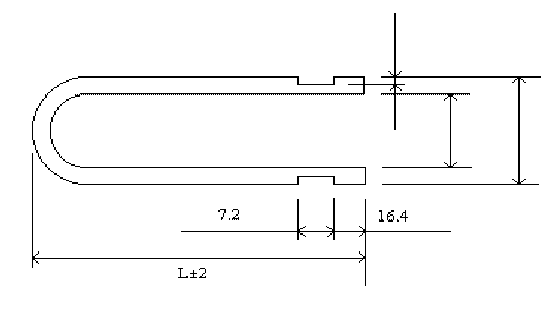 ---
SILICON CARBIDE TUBES
CarSik-70 ZA
CarSik-90ZA
Nitride bounded Silicon Carbide Porous, (70% SiC, 24% Si3N4). Features high strength up to temperature of 1,450°C
Dense, Silicon Carbide with good mechanical properties, at high temperatures of up to 1,700°C
---
DIMMENSIONS (in mm)
Thermocouple Protection Tubes

Order No.

OD X ID

R 208
8 x 5
R 211
12 x 8
R 212
15 x 10
R 214
20 x 15
R 215
24 x 18
Multi-Bore Insulating Tubes (Round)
Bore
O.D. (mm)
Bore Dia. (mm)
2
4.8
1.4
4
3.0
0.8
4
3.5
1.0
4
5.5
1.2
4
8.5
1.5
6
4.9
0.75
7
4.9
1.8
Two Bore Insulating Tubes (Oval)
O.D. (mm)
I.D. (mm)
Bore Dia. (mm)
2.5
1.5
0.7
4.2
2.1
0.85
4.3
1.4
0.7
4.5
3.1
1.7
2.95
2.0
0.6